National Medicare Audioconference: Medicare Promotion of Health Information Systems
Tuesday, September 27, 2005

1:00 pm - 2:30 pm (Eastern)
12:00 pm - 1:30 pm (Central)
11:00 am - 12:30 pm (Mountain)
10:00 am - 11:30 am (Pacific)

Featured Faculty:


Kelly Cronin
Senior Advisor
Center for Medicare and Medicaid Services
Washington DC

Shannah Koss
Director, Health Information Technology Practice
Avalere Health
Washington DC

Sheera Rosenfeld
Manager
Avalere Health
Washington DC

John Tooker, MD, MBA, FACP
Executive Vice-President and Chief Executive Officer
American College of Physicians
Washington, DC

John K. Iglehart
Founding Editor, Health Affairs
National Correspondent, New England Journal of Medicine
Washington, DC
(Moderator)




SAVE THE DATE!

National Medicare Audioconference:
Perspectives on Part D Enrollment Indicators and the Impact on Premiums and Beneficiaries

Wednesday, October 19, 2005
1:00 p.m. - 2:30 pm (EST)

- Click here for more info -




SPECIAL HEALTH AFFAIRS EDITION ON HIT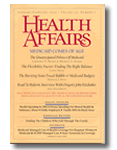 A special September/October edition of Health Affairs, available September 14, is a thematic issue dedicated to health information technology (HIT). Among the articles are estimates of cost savings if electronic medical records are wisely used; an assessment of physicians' use of HIT; a review of the slow adoption of HIT; and an interview with the national coordinator of HIT, David Brailer. Upon reviewing the forthcoming issue's table of contents, Brailer called the volume a "tour de force." Print editions may be ordered for $35 each on Health Affairs' Web site or from Customer Service at 301-347-3900.
SAVE THE DATE!
THE SECOND NATIONAL MEDICARE PRESCRIPTION DRUG CONGRESS
The Leading Forum on the New Medicare Prescription Drug Coverage Legislation and Its Implications for Pharmaceutical Manufacturers, PBMs, Health Plans and Providers

October 31 - November 2, 2005

Hyatt Regency on Capitol Hill
Washington, DC

- Click here for more info -
SAVE THE DATE!
THE FIFTH ANNUAL PHARMACEUTICAL REGULATORY AND COMPLIANCE CONGRESS
Sponsored by Pharmaceutical Compliance Forum and PricewaterhouseCoopers

November 6-9, 2005

Washington, DC

- Click here for more info -